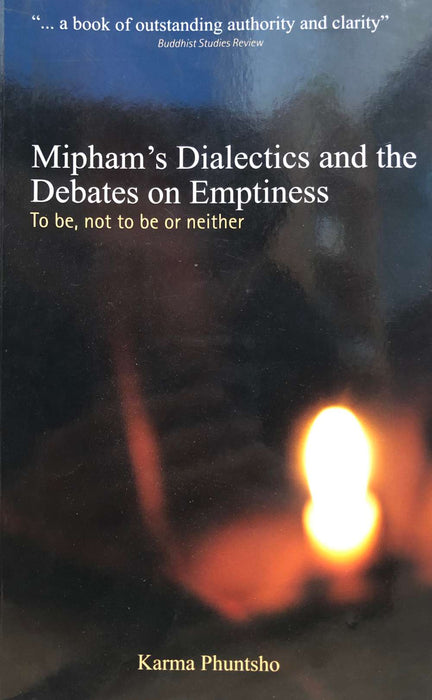 Mipham's Dialectics and the Debates on Emptiness by Karma Phuntsho
Original price
Nu 599.00
-
Original price
Nu 599.00
The book focuses on the Buddhist philosophy of Emptiness which connects with the idea of Emptiness and notion to the Indo-Tibetan Buddhism. It studies the review by the principal Nyingma school philosopher Mipham formulated in his diverse scripts. It emphasizes on the negligence of doctrine of emptiness, reality and the difference between 'extrinsic' and 'intrinsic' emptiness.
We also offer the following books:

Daphue Book, Daphue Sundry Book, BHUTAN - A Sketchbook, Foods of the Kingdom of Bhutan, School Leadership and Development, Metog Udumwara by Tshwang Peljor, Folktales of Bhutan, Living the Bhutanese Way, Discover the Eleven Profit Centres of Life, Switch Off- Karma Tenzin(Yongba), The Cuckoo and the Pigeon, Whispering WIngs, Our Life Waste not Regret not, The Hero with a Thousand Eyes, Leadership of the Wise Kings, Kyetse by Chador, Miracle One Day, In Love with Butterflies and Other Stories, Deyzang by Indra K. Vishwa, Depa Bondeypa's Relatives, AKu Thongmi: A song for Bhutan Written by Jane Hancock and Janet Herman, My Green School, Dewdrops in the sun; A Treasury of Poems, Rigzang, Ei8ht Nyingtib Tshering's Amazing Journey, What is the true cause of being born handsome or beautiful, Kissing Dragon, The Dharma King, Bumo Jarim,The Dharma King by Dr. Lauren Alderfer, Akhey Gyem: A Legend from Haa, A Little Thing Called Love, Bhutan the Roar of the Thunder Dragon, Deities, Archers and Planners in the Era of Decentralisation, Medical History of Bhutan, The Sky Heard The Whisper, Tales in Colors & Other Stories, Enchanted by Bhutan, Thakchung Gadpu, Foods of the Kingdom of Bhutan, GARPA by Pema Tshering, The Gift, TIGER AND MONK: A HIMALAYAN FICTION, Enchanted by Bhutan, Dorji by Alex Rothman, Folded into a paper boat a collection of Poetry from Bhutan, Mebartsho: The Falming Lake, Tales of the Yeti, Gyal-Khab, Reflections of State, Citizen, and Citizenship Education, The Hidden Rainbow.