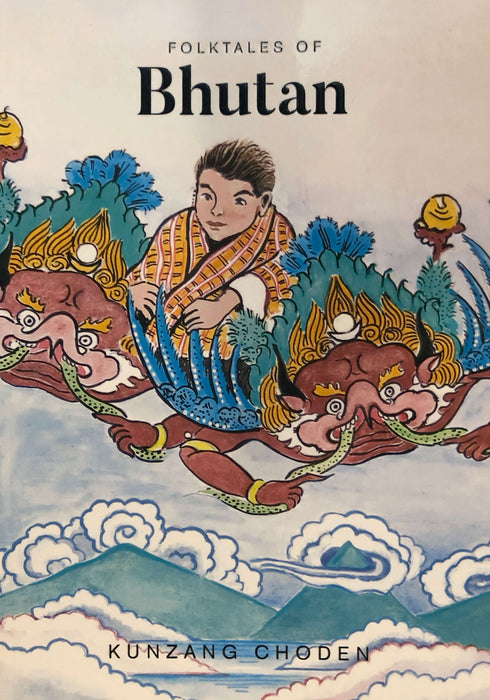 Folktales of Bhutan by Kunzang Choden
Sold out
Original price
Nu 399.00
-
Original price
Nu 399.00
The first attempt of a Bhutanese to record in English the oral traditions of their kingdom has resulted in this collection of thirty-eight folktales and legends. 35 pp. illustrations. All of the stories recounted here were heard by the author when she was a child living in Bumthang, in the central part of Bhutan and are the ones that she passes on in the spirit of the oral tradition. Each story has been aptly illustrated by a Bhutanese artist.
Author: Kunzang Choden 
Publisher: White Lotus; 1st Edition (1st January,1994) 
Number of Pages: 197pages
Item Weight: 150g
Dimension: 5.19 x 0.59 x 8.27 inches
We also offer the following books:

The Rainbow with a Blue Hear, Hidden Rainbow, Embrace, Brown Bear NoteBook,Within the realm of Happiness, The Gap, Just the Way It is, Ashi Tshomen: The Mermaid Princess, Tiger & cloud, Monk chasing Monkey, The Successors of Zhabdrung Ngawang Namgyel, Palang, Daphue Book, Daphue Sundry Book, BHUTAN - A Sketchbook, Foods of the Kingdom of Bhutan, School Leadership and Development, Metog Udumwara by Tshwang Peljor, The Miracle Calling, Phases, Mipham's Dialectics and the Debates on Emptiness, AKu Thongmi: A song for Bhutan Written by Jane Hancock and Janet Herman, My Green School, Dewdrops in the sun; A Treasury of Poems, Rigzang, Ei8ht Nyingtib Tshering's Amazing Journey, The Rendezvous Omega,The Dharma King by Dr. Lauren Alderfer, Akhey Gyem: A Legend from Haa, A Little Thing Called Love, Bhutan the Roar of the Thunder Dragon, Deities, Archers and Planners in the Era of Decentralisation, Sharchop Gyalpo and Ashi Nangsa, GNH Certification, Gyalo by Lingo Jamtsho, Medical History of Bhutan, The Sky Heard The Whisper, Tales in Colors & Other Stories, Enchanted by Bhutan, Thakchung Gadpu, Songs of Lonely Raven, The beautiful Chaos,  Folded into a paper boat a collection of Poetry from Bhutan, Mebartsho: The Falming Lake, Tales of the Yeti, Gyal-Khab.
About the Author 
Choden was born in Bumthang District. Her parents were feudal landlords. At the age of nine, her father sent her to school in India, where she learned English. She has a BA Honours in Psychology from Indraprastha College in Delhi and a BA in Sociology from the University of Nebraska-Lincoln. She has worked for the United Nations Development Program in Bhutan. She and her Swiss husband currently live in Thimphu.