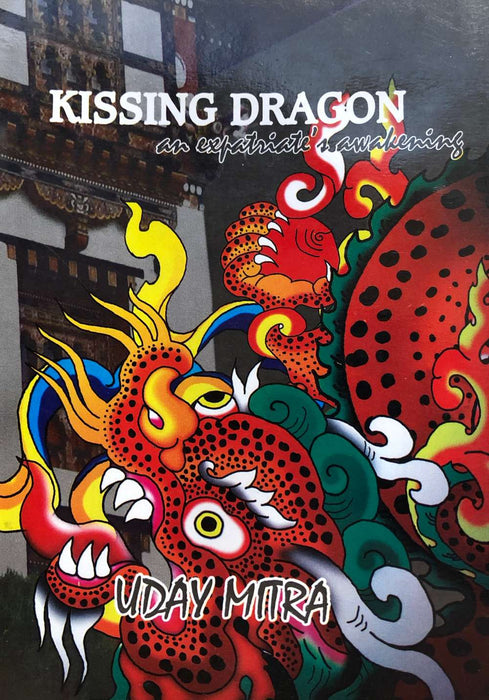 Kissing Dragon by Uday Mitra
Original price
Nu 279.00
-
Original price
Nu 279.00
Konarak's roller-coaster ride through a host of urban degradations in Bangalore, India, delivers him into the Land of the Buddha in Bhutan. A world of fathomless peace and ethereal forgetfulness, blessed by the legendary Dragon! Amidst materialistic values, Konarak manages a spiritual survival over dogma. He triumphs over the inscrutable world of social values. Scorching in intensity, KISSING DRAGON is a search for identity and fulfillment in a farcical world of lucre, power and incipient politics.

Product Deacription 
ISBN: 9789993671008
Publisher: UDAY MITRA
Number of Pages: 100
Length x Width x Heght: 20cm x 14cm x 20cm
Weight: 157.765g
Published: Reprographic(Thimphu) 2008
We also offer the following books:

Switch Off- Karma Tenzin(Yongba), The Cuckoo and the Pigeon, Whispering WIngs, Our Life Waste not Regret not, The Hero with a Thousand Eyes, The Miracle Calling, Phases, Mipham's Dialectics and the Debates on Emptiness, AKu Thongmi: A song for Bhutan Written by Jane Hancock and Janet Herman, My Green School, The Rendezvous Omega, Escapades Awakenings, How Turnips Came to Haa, The Dharma King, Bumo Jarim,The Dharma King by Dr. Lauren Alderfer, Akhey Gyem: A Legend from Haa, A Little Thing Called Love, Bhutan the Roar of the Thunder Dragon, Deities, Archers and Planners in the Era of Decentralisation, Sharchop Gyalpo and Ashi Nangsa, GNH Certification, Gyalo by Lingo Jamtsho, Medical History of Bhutan, The Sky Heard The Whisper, Tales in Colors & Other Stories, Enchanted by Bhutan, Thakchung Gadpu, Songs of Lonely Raven, The beautiful Chaos, Thus I Heard, Foods of the Kingdom of Bhutan, GARPA by Pema Tshering, The Gift, TIGER AND MONK: A HIMALAYAN FICTION, Enchanted by Bhutan, Dorji by Alex Rothman, Folded into a paper boat a collection of Poetry from Bhutan, Mebartsho: The Falming Lake, Tales of the Yeti, Gyal-Khab, Reflections of State, Citizen, and Citizenship Education, The Hidden Rainbow.
About the Author
UDAY MITRA teaches English Language and Literature at the higher secondary school level. A Bengali-speaking Bangalorean, he spent a lifetime of service in the picturesque Himalayas, teaching Bhutanese children along with his wife LIna. He loves travel, art, culture and music along with Buddhist religion and philosophy.