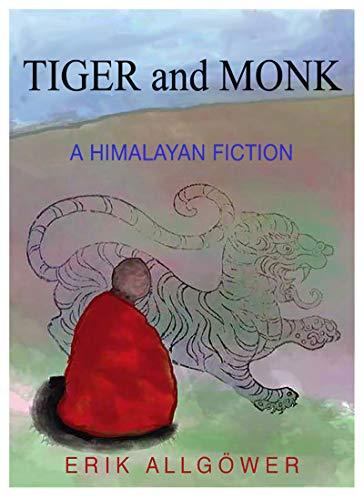 TIGER AND MONK: A HIMALAYAN FICTION by Erik Allgöwer
Original price
Nu 349.00
-
Original price
Nu 349.00
Written by Erik Allgöwer 
The Silk Letter of the Ming Empress has laid buried deep in the archives of the Vatican for centuries. The exclusive knowledge of its existence and its potential global significance was known to but a few. In the 1980's it is a group of Tibetan monks who rekindle knowledge of this letter. In his book Erik Allgöwer places Bhutan on a global center stage as the custodian of this secret. The author skillfully builds upon the existing conditions in Bhutan in the 1980s to tell a fantastic tale of the dogged and often bungling members of an international group who are in a race to locate this secret letter. A race that pitches distinguished Tibetologists against wily Jesuits, while fake diplomats compete with hardcore spies as their paths criss-cross. Unbeknownst to all, throughout their journey, the eyes of the Tigers watch them closely. Erik Allgöwer's fast paced thriller will enthrall Bhutanese and Bhutan enthusiasts alike.
We also offer the following books:

Leadership of the Wise Kings, Kyetse by Chador, Miracle One Day, In Love with Butterflies and Other Stories, Deyzang by Indra K. Vishwa, Depa Bondeypa's Relatives, The Miracle Calling, Phases, Mipham's Dialectics and the Debates on Emptiness, Ei8ht Nyingtib Tshering's Amazing Journey, What is the true cause of being born handsome or beautiful, Kissing Dragon, The Rendezvous Omega, Escapades Awakenings, How Turnips Came to Haa, The Dharma King, Bumo Jarim,The Dharma King by Dr. Lauren Alderfer, Akhey Gyem: A Legend from Haa, A Little Thing Called Love, Bhutan the Roar of the Thunder Dragon, Deities, Archers and Planners in the Era of Decentralisation, Sharchop Gyalpo and Ashi Nangsa, GNH Certification, Gyalo by Lingo Jamtsho, Medical History of Bhutan, The Sky Heard The Whisper, Tales in Colors & Other Stories, Enchanted by Bhutan, Thakchung Gadpu, Songs of Lonely Raven, The beautiful Chaos, Thus I Heard, Foods of the Kingdom of Bhutan, Dorji by Alex Rothman, Folded into a paper boat a collection of Poetry from Bhutan, Mebartsho: The Falming Lake, Tales of the Yeti, Gyal-Khab, Reflections of State, Citizen, and Citizenship Education, The Hidden Rainbow.
About the Artisan
Riyang Books is a small, Bhutan- based publishing house owned and operated by author, Kunzang  Choden and her family. It was founded in November 2012 out of a deep love for literature and the written word as well as a desire to create a welcoming space to encourage and support creative work in Bhutan.