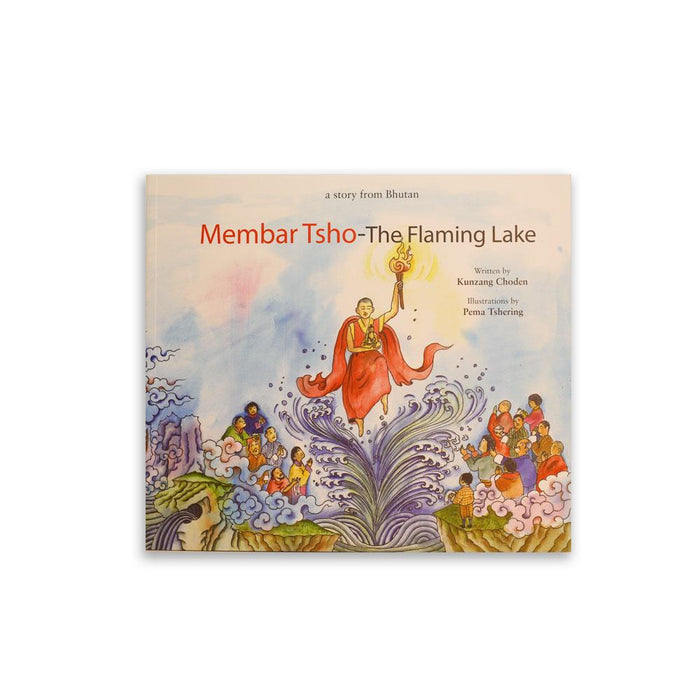 Mebartsho, The Falming Lake by Kunzang Choden
Sold out
Original price
Nu 409.00
-
Original price
Nu 409.00
Written by Kunzang Choden
Illustrated by Pema Tshering
A story about the coming of Guru Rinpoche, the second Buddha.
We also offer the following books:

The Rainbow with a Blue Hear, Hidden Rainbow, Embrace, Brown Bear NoteBook,Within the realm of Happiness, The Gap, Just the Way It is, Ashi Tshomen: The Mermaid Princess, Tiger & cloud, Monk chasing Monkey, The Successors of Zhabdrung Ngawang Namgyel, Leadership of the Wise Kings, Kyetse by Chador, Miracle One Day, In Love with Butterflies and Other Stories, Deyzang by Indra K. Vishwa, Depa Bondeypa's Relatives, The Miracle Calling, Phases, Mipham's Dialectics and the Debates on Emptiness, AKu Thongmi: A song for Bhutan Written by Jane Hancock and Janet Herman, My Green School, Dewdrops in the sun; A Treasury of Poems, Rigzang, Ei8ht Nyingtib Tshering's Amazing Journey, What is the true cause of being born handsome or beautiful, Kissing Dragon, The Rendezvous Omega, Escapades Awakenings, How Turnips Came to Haa, The Dharma King, Bumo Jarim,The Dharma King by Dr. Lauren Alderfer, Akhey Gyem: A Legend from Haa, A Little Thing Called Love.
About the Artisan
Riyang Books is a small, Bhutan- based publishing house owned and operated by author, Kunzang  Choden and her family. It was founded in November 2012 out of a deep love for literature and the written word as well as a desire to create a welcoming space to encourage and support creative work in Bhutan.