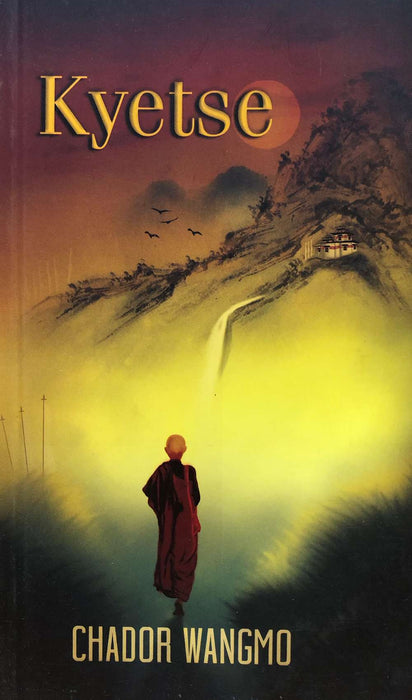 Kyetse-Chador Wangmo, Chador Wangmo, 304 pages
Sold out
Original price
Nu 455.00
-
Original price
Nu 455.00
Madam Chador Wangmo's second novel Kyetse is one of them. It is the gripping tale of a girl born in a time rife with superstitious beliefs and her journey in quest of finding herself. The book takes on a broad theme of; karmic and destined life, courage and bravery, self-realization and exploitation in mask of fake identity. It begins at Tashigang, briefly during the advent of modernization in a country in late twentieth century. While economic developments initially remain in the backdrop, rural traditions and ways of living are presented up close and personal.As the novel begins, protagonist, Som Dema was born to Tashi Tshering and Sangay choden, who were Serga-mathang-and-kokhkin (Tsangla phrase), which literally mean golden cousin and pertains to consanguineous marriage, owining to be daughter and son of sister Tshoden and brother Dathang respectively. Only Dathang and Tshoden survived of ten children born to Memey Tenzin and Abhi Sanjaymo who has been ill-fated after having petty dispute with the imperious neighbor by Memey Tenzin. Novel setting depicts a kind of complex tapestry of early village living, culture and traditions.


Product Descriptions
Published2016
ISBN: 9789993673309
Number of Pages: 304
Weight: 201 grams 
Length x Width x Height: 13cm x 10cm x 13cm
We also offer the following books:

The Rainbow with a Blue Hear, Hidden Rainbow, Embrace, Brown Bear NoteBook,Within the realm of Happiness, The Gap, Just the Way It is, Ashi Tshomen: The Mermaid Princess, Tiger & cloud, Monk chasing Monkey, The Successors of Zhabdrung Ngawang Namgyel, Palang, Daphue Book, Daphue Sundry Book, BHUTAN - A Sketchbook, Foods of the Kingdom of Bhutan, School Leadership and Development, Metog Udumwara by Tshwang Peljor, The Miracle Calling, Phases, Mipham's Dialectics and the Debates on Emptiness, AKu Thongmi: A song for Bhutan Written by Jane Hancock and Janet Herman, My Green School, Dewdrops in the sun; A Treasury of Poems, Rigzang, Ei8ht Nyingtib Tshering's Amazing Journey, What is the true cause of being born handsome or beautiful, Kissing Dragon, The Rendezvous Omega, Escapades Awakenings, How Turnips Came to Haa, The Dharma King, Bumo Jarim, GNH Certification, Gyalo by Lingo Jamtsho, Medical History of Bhutan, The Sky Heard The Whisper, Tales in Colors & Other Stories, Enchanted by Bhutan, Thakchung Gadpu, Songs of Lonely Raven, The beautiful Chaos, Thus I Heard, Foods of the Kingdom of Bhutan, GARPA by Pema Tshering, The Gift, TIGER AND MONK: A HIMALAYAN FICTION, Enchanted by Bhutan, Dorji by Alex Rothman, Folded into a paper boat a collection of Poetry from Bhutan, Mebartsho: The Falming Lake, Tales of the Yeti, Gyal-Khab, Reflections of State, Citizen, and Citizenship Education, The Hidden Rainbow.
About the Author 
Chador Wangmo has authored fifteen books. Her list of published books include ten illustrated books for children, two chapter books, two novels and an anthology of poems. She believes creativity should not be boxed in boundaries of genre, style or format. So, that's why she writes all genre, hoping to reach out to every section of the society with her stories.