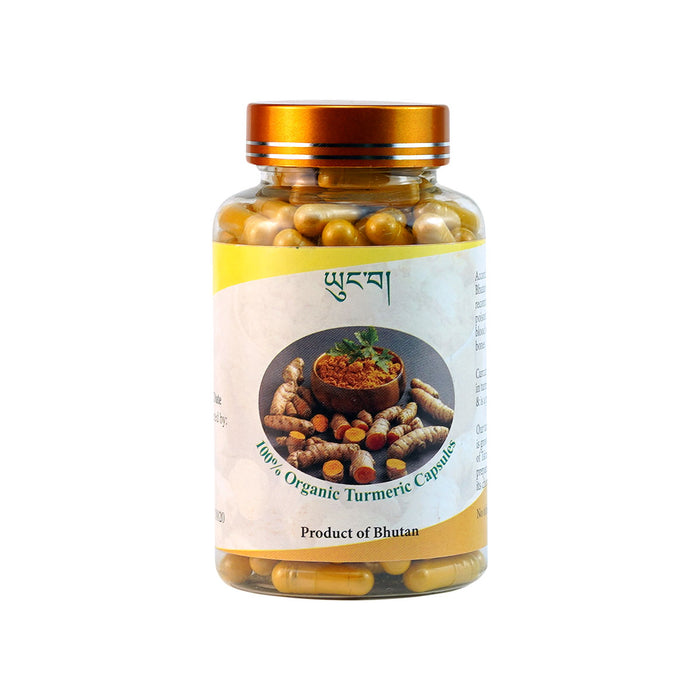 100% Organic Turmeric Capsules, Product of Bhutan, Traditional Bhutanese Medicine, 180 Capsules/350 capsules, Menjong sorig
Original price
Nu 550.00
-
Original price
Nu 950.00
100% organic turmeric that is grown and harvested by the farmers of Tsirang, Bhutan. Our turmeric is an all-natural remedy that has been recommended by so-wa rig-pa (traditional medicine) for curing a variety of ailments, including piles, food poisoning, diabetes, skin disorders, blood-related illnesses, and strengthening bones. This powerful spice is a natural source of curcumin, the main active compound that is known for its antioxidant properties and powerful anti-aging benefits.
Our turmeric is prepared in a controlled environment with room temperature to retain its natural chemical properties and texture, ensuring that you get the best quality product. Our 100% organic turmeric contains no additives, colorings, or preservatives, making it a healthy and natural alternative to synthetic drugs. 
350 capsules or 180 Capsules

We also offer the following products from Menjong Sorig:
Turmeric Capsules, Black Ginger Capsules, Dhuetsi Chuelen, Lakadong Turmeric Capsules, Mountain Pepper Oil, Native Turmeric Capsules, Natural Litsea Citrata Oil (Sil Timur), Organic Black Turmeric Capsule, Shilajit in Resin Form, Yungwa.
About the Producer
Menjong Sorig Pharmaceuticals,otherwise known as Pharmaceutical and Research Unit under the Institute of Traditional Medicine Services in the Ministry of Health, is the premier manufacturer of the traditional herbal-based medicines supplied to all the Hospitals in Bhutan. It is a place where the modern science and technology is married with the ancient traditional knowledge. It is located in Kawa Jangsa in the capital city of Bhutan, Thimphu.
Traditional Medicinewas introduced as a part of the National Health Care System in 1967, when production of traditional medicines was started on a very low scale. In 1982, the production of traditional medicines was mechanized with the procurement of some basic grinding equipment with WHO support. By 1997, the cottage production unit was upgraded to a manufacturing unit as the Pharmaceutical and Research Unit (PRU) with modern equipment for production, research and quality control.
Thegso-ba rig-paprovides a comprehensive way of understanding the Universe, man, and his sicknesses and it is gaining popularity due to its holistic, rounded and profound approach in the treatment of human beings. The TM system with its unique philosophy and approach has a holistic approach in the treatment of human suffering and diseases. It not only considers in treating the disease and its causes but also considers the interdependency of man and nature and has spiritual components included in the treatment.