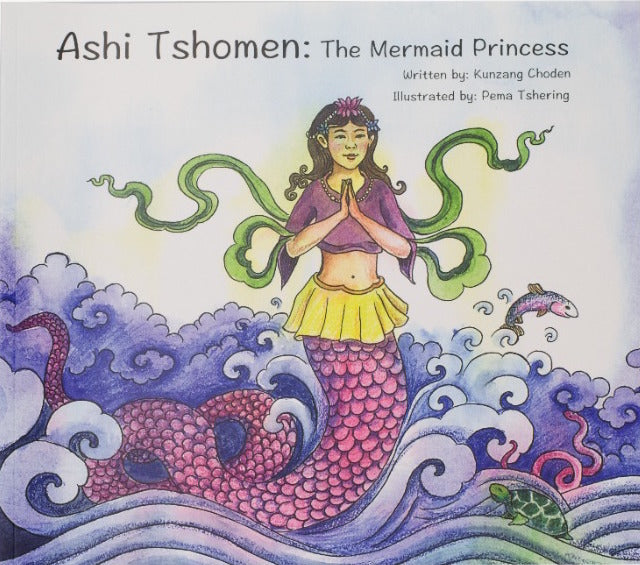 Ashi Tshomen: The Mermaid Princess, 150g, Rinyang Books, Children books, Bhutanese books, Bhutanese Writers, kids, Books for kids, Folktales of Bhutan
Original price
Nu 299.00
-
Original price
Nu 299.00
Ashi Tshomen is half human and half snake for she is a Lu princess who lives in a lake. She loves to play with her friends under the water, but also to watch the human beings who live on earth above her lake.
When the human beings become selfish and careless, they pollute her lake and hurt those who live in the lake. Ashi Tshomen's father, the King of the lake becomes angry and plans to punish the human beings but Ashi Tshomen helps to find a better solution.
This children's book while set in the contemporary world, tenderly evokes the traditional relationship between the Lu, or subterranean spirits who protect our water sources and the humans.
Product Description
Dimension:
Length: 9.9 inches
Height: 8.7 Inches
Weight: 110 grams
ISBN Number:
Printed by:
Replika Press Pvt Ltd, India
Published by:
No. of Pages:
We also offer the following books:

The Cuckoo and the Pigeon, Whispering WIngs, Our Life Waste not Regret not, The Hero with a Thousand Eyes, Leadership of the Wise Kings, Kyetse by Chador, Miracle One Day, In Love with Butterflies and Other Stories, Deyzang by Indra K. Vishwa, Depa Bondeypa's Relatives, The Miracle Calling, Phases, Mipham's Dialectics and the Debates on Emptiness, AKu Thongmi: A song for Bhutan Written by Jane Hancock and Janet Herman, My Green School, Dewdrops in the sun; A Treasury of Poems, Rigzang, Ei8ht Nyingtib Tshering's Amazing Journey, What is the true cause of being born handsome or beautiful, Kissing Dragon, The Rendezvous Omega, Escapades Awakenings, How Turnips Came to Haa, The Dharma King, Bumo Jarim,The Dharma King by Dr. Lauren Alderfer, Akhey Gyem: A Legend from Haa, A Little Thing Called Love, Bhutan the Roar of the Thunder Dragon, Deities, Archers and Planners in the Era of Decentralisation, Sharchop Gyalpo and Ashi Nangsa, GNH Certification, Gyalo by Lingo Jamtsho, Medical History of Bhutan, The Sky Heard The Whisper, Tales in Colors & Other Stories, Enchanted by Bhutan, Thakchung Gadpu, Songs of Lonely Raven.
About the Author
Choden was born in Bumthang District. Her parents were feudal landlords. At the age of nine, her father sent her to school in India, where she learned English. She has a BA Honours in Psychology from Indraprastha College in Delhi and a BA in Sociology from the University of Nebraska-Lincoln. She has worked for the United Nations Development Program in Bhutan. She and her Swiss husband currently live in Thimphu.