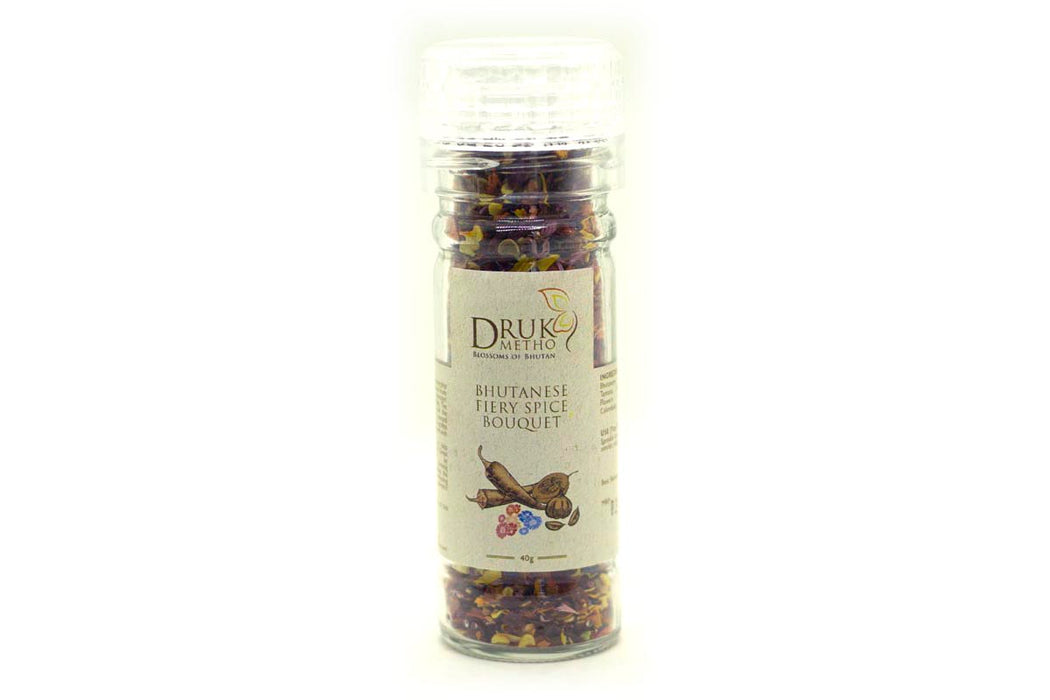 Bhutanese Fiery Spice Bouquet, 60g, Druk Metho
Original price
Nu 399.00
-
Original price
Nu 399.00
Bhutanese Fiery Spice Bouquet
Ingredient: Szechuan pepper and Edible flowers (Cornflower and Calendula)
Use( Top Tips): Sprinkle it on salad, soup, pasta, omelet, ezay and Thukpa
Net weight: 60gms
We also have the following spices:

Organic Cardamom from Bhutan, Organic Turmeric Capsules, Organic Turmeric Powder (Curcuma Longa), Bio Pure Ginger Powder, Black Turmeric, Celery Herbs, Chili Powder, Large Cardamom Powder, Natural Dried Bay Leaves, Sun Dried Chilli Flakes, Sun Dried Garlic, Sun Dried Red Chillies, Sun Dried Seedless Chilli Powder, Sun Dried Sichuan Pepper, Sun-dried white chilies, Sersang Tumeric Powder, Tumeric Powder.
About the producer
Druk Metho works in partnership with a women's cooperative from Drachukha, a rural community in the Punakha valley. The organic edible flowers and the ingredient are sourced from Drachukha, and the profits from the project are shared with the farmers group.
The project aspires to help realize the philosophy of Gross National Happiness by empowering local farming communities, strengthening the local economy, and promoting local values through authentic local products.