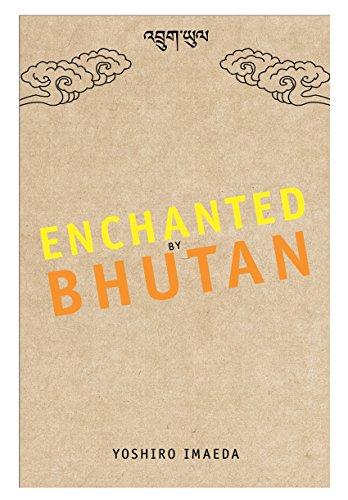 Enchanted by Bhutan by Yoshiro Imaeda
Original price
Nu 349.00
-
Original price
Nu 349.00
Written by Yoshiro Imaeda
Invitation to a mysterious journey The secret services of several European and Asian governments hear rumors about an ancient, hidden manuscript capable of changing mankind's history. A search in the Vatican Archives, investigations by English, French, Indian and Chinese secret services start a race to find out more about this intriguing news. Manipulated by an invisible puppet-master and unaware of being closely watched by the highly trained and secretive "Tiger Unit", a Jesuit Padre, a group of distinguished French Tibetologists, an English Foreign Affairs agent, Indian and Chinese special forces are drawn towards the hidden valleys of the Himalayan Kingdom of Bhutan. Will they succeed in this perilous challenge? Embark with them on this mysterious search and enjoy the wild rid.
We also offer the following books:

Folktales of Bhutan, Living the Bhutanese Way, Discover the Eleven Profit Centres of Life, Switch Off- Karma Tenzin(Yongba), The Cuckoo and the Pigeon, Whispering WIngs, Our Life Waste not Regret not, The Hero with a Thousand Eyes, Leadership of the Wise Kings, The Miracle Calling, Phases, Mipham's Dialectics and the Debates on Emptiness, AKu Thongmi: A song for Bhutan Written by Jane Hancock and Janet Herman, My Green School, Dewdrops in the sun; A Treasury of Poems, Rigzang, Akhey Gyem: A Legend from Haa, A Little Thing Called Love, Bhutan the Roar of the Thunder Dragon, Deities, Archers and Planners in the Era of Decentralisation, Sharchop Gyalpo and Ashi Nangsa, GNH Certification, Gyalo by Lingo Jamtsho, Medical History of Bhutan, The Sky Heard The Whisper, Tales in Colors & Other Stories, Enchanted by Bhutan, Thakchung Gadpu, Songs of Lonely Raven, The beautiful Chaos, Mebartsho: The Falming Lake, Tales of the Yeti, Gyal-Khab, Reflections of State, Citizen, and Citizenship Education, The Hidden Rainbow.
About the Artisan
Riyang Books is a small, Bhutan-based publishing house owned and operated by author, Kunzang  Choden and her family. It was founded in November 2012 out of a deep love for literature and the written word as well as a desire to create a welcoming space to encourage and support creative work in Bhutan.