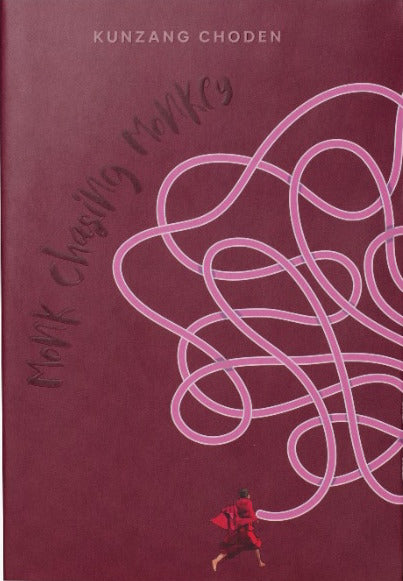 Monk chasing Monkey by Aum Kunzang Choden
Original price
Nu 349.00
-
Original price
Nu 349.00
 Rigzin, a young monk, lives a cloistered life with his master in the remote mountains of Bhutan. He knows nothing of the outside world, till one day his blissful isolation is invaded by a modern pop song. All peace and contentment shattered, Rigzin can find no rest till he satiates his new found curiosity.
With the help of his master, Rigzin sets off on a magical journey around the country following his monkey mind whenever it takes him. He finds himself thrust into a world far more confounding man than he could have ever imagined. By turns fiercely comical and tender, Monk Chasing Monkey is the story of modern Bhutan and a moving navigate unknowable complexities every day.
Product Descriptions
Dimension
Length x Width x Height: 20cm x 15cm x 20cm
Weight
ISBN Number:
Printed:
Published by:
We also offer the following books:

Whispering WIngs, Our Life Waste not Regret not, The Hero with a Thousand Eyes, Leadership of the Wise Kings, Kyetse by Chador, Miracle One Day, In Love with Butterflies and Other Stories, Deyzang by Indra K. Vishwa, Depa Bondeypa's Relatives, The Miracle Calling, Phases, Mipham's Dialectics and the Debates on Emptiness, AKu Thongmi: A song for Bhutan Written by Jane Hancock and Janet Herman, Escapades Awakenings, How Turnips Came to Haa, The Dharma King, Bumo Jarim,The Dharma King by Dr. Lauren Alderfer, Akhey Gyem: A Legend from Haa, A Little Thing Called Love, Bhutan the Roar of the Thunder Dragon, Deities, Archers and Planners in the Era of Decentralisation, Sharchop Gyalpo and Ashi Nangsa, GNH Certification, Gyalo by Lingo Jamtsho, Medical History of Bhutan, The Gift, TIGER AND MONK: A HIMALAYAN FICTION, Enchanted by Bhutan, Dorji by Alex Rothman, Folded into a paper boat a collection of Poetry from Bhutan, Mebartsho: The Falming Lake, Tales of the Yeti, Gyal-Khab, Reflections of State, Citizen, and Citizenship Education, The Hidden Rainbow.
About the Author 
Choden was born in Bumthang District. Her parents were feudal landlords. At the age of nine, her father sent her to school in India, where she learned English. She has a BA Honours in Psychology from Indraprastha College in Delhi and a BA in Sociology from the University of Nebraska-Lincoln. She has worked for the United Nations Development Program in Bhutan. She and her Swiss husband currently live in Thimphu.