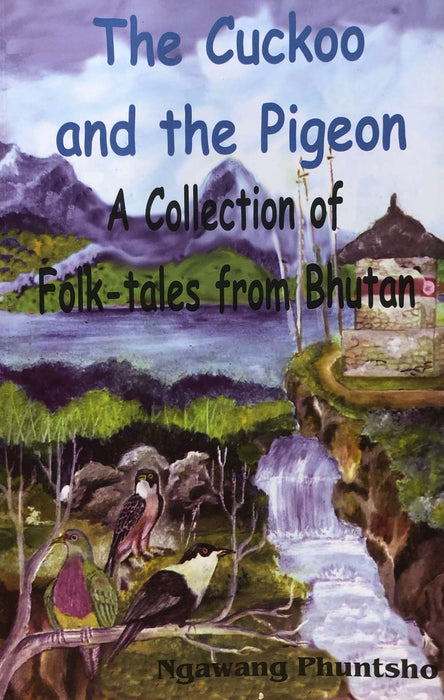 The Cuckoo and the Pigeon by Ngawang Phuntsho
Sold out
Original price
Nu 325.00
-
Original price
Nu 325.00
The Cuckoo and the Pigeon is a collection of 35 folktales from the Himalayan Kingdom of Bhutan. The stories take the readers into the lands of demons and monsters, fairies and magicians, of beauty and the beast, and will entertain readers of all ages with striking morals and lessons.
Product Descriptions
Published: 2009 
ISBN: 9788177697674
Number of Pages: 100 pages 
Length x Width x Height: 15cm x 10cm x 10
Weight: 110 grams
We also offer the following books:

Leadership of the Wise Kings, Kyetse by Chador, Miracle One Day, In Love with Butterflies and Other Stories, Deyzang by Indra K. Vishwa, Depa Bondeypa's Relatives, The Miracle Calling, Phases, Mipham's Dialectics and the Debates on Emptiness, AKu Thongmi: A song for Bhutan Written by Jane Hancock and Janet Herman, My Green School, Dewdrops in the sun; A Treasury of Poems, Rigzang, Ei8ht Nyingtib Tshering's Amazing Journey, What is the true cause of being born handsome or beautiful, Kissing Dragon, The Rendezvous Omega, Escapades Awakenings, How Turnips Came to Haa, The Dharma King, Bumo Jarim, Medical History of Bhutan, The Sky Heard The Whisper, Tales in Colors & Other Stories, Enchanted by Bhutan, Thakchung Gadpu, Songs of Lonely Raven, The beautiful Chaos, Thus I Heard, Foods of the Kingdom of Bhutan, GARPA by Pema Tshering, The Gift, TIGER AND MONK: A HIMALAYAN FICTION, Enchanted by Bhutan, Dorji by Alex Rothman, Folded into a paper boat a collection of Poetry from Bhutan, Mebartsho: The Falming Lake, Tales of the Yeti, Gyal-Khab, Reflections of State, Citizen, and Citizenship Education, The Hidden Rainbow.
 About the Author:
Ngawang Phuntsho is from a small village of Wamling in the Central Bhutan. He studied English Literature in Bhutan's premier college Sherubtse. He writes short stories and blogs regularly on social issues that confront the nation. His first book of folktales was published in Nepal. In 2012, he also published a book of contemporary short stories - Then I Saw Her Face. Today Ngawang works for an International NGO - READ Bhutan as Development Officer and lives with his wife and a two-year old-daughter in the capital city of Thimphu.