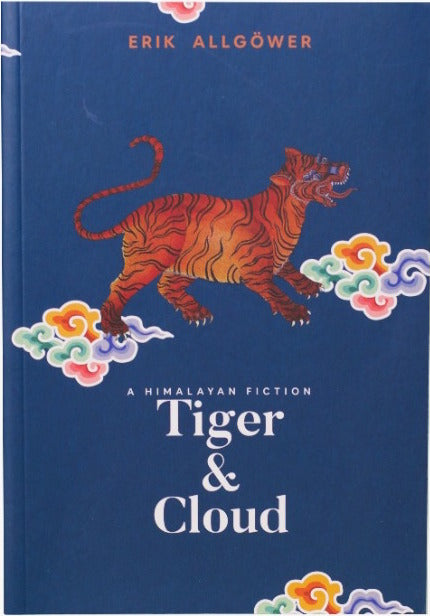 Tiger & cloud( A Himalayan Fiction) by Aum Kunzang Choden
Original price
Nu 350.00
-
Original price
Nu 350.00
By genetic engineering, a group of scientists have developed a synthetic, gaseous fuel, called "Biologically Altered Natural Gas", reffed to as 'BANG'. To achieve their goal, they manipulated the genetic code of a bacterium called 'Escherichia Coil, a germ widely distributed on the planet. After some time, the genetically altered germs escaped from the production sites and induced the same genetic changes in the wild forms of the same bacterium. A runaway production of BANG ensures, intoxicating the atmosphere around the earth up to an altitude of five to seven thousand feet. To stem the tide of climatic refugees from India and incursions of Chinese troops from the North the elite 'Tiger' troops are mobilized.
Erik Allgöwer is a swiss specialist in Internal Medicine by profession. He had the privilege of serving the Royal Government of Bhutan as the Zonal Medical Officer in charge of the Bumthang, Trongsa and Zhemgang districts. During several professional and private visits to Bhutan, he had the Bhutan Broadcasting service, he co-produced the documentary film "Gross National Happiness in Bhutan."
He presently lives with his wife in the french speaking part of Switzerland.

Product Descriptions:
Dimension:
Length x Width x Height: 20cm x 15cm x 20cm
Weight:
ISBN Number: 
Printed by: 
Published by: 
We also offer the following books:

The Successors of Zhabdrung Ngawang Namgyel, Palang, Daphue Book, Daphue Sundry Book, BHUTAN - A Sketchbook, Foods of the Kingdom of Bhutan, School Leadership and Development, Metog Udumwara by Tshwang Peljor, Folktales of Bhutan, Living the Bhutanese Way, Discover the Eleven Profit Centres of Life, Switch Off- Karma Tenzin(Yongba), The Cuckoo and the Pigeon, Whispering WIngs, Our Life Waste not Regret not, Kyetse by Chador, Miracle One Day, In Love with Butterflies and Other Stories, Deyzang by Indra K. Vishwa, Depa Bondeypa's Relatives, A Little Thing Called Love, Bhutan the Roar of the Thunder Dragon, Deities, Archers and Planners in the Era of Decentralisation, Sharchop Gyalpo and Ashi Nangsa, GNH Certification, Songs of Lonely Raven, The beautiful Chaos, Thus I Heard, Foods of the Kingdom of Bhutan, GARPA by Pema Tshering, The Gift, TIGER AND MONK: A HIMALAYAN FICTION, Enchanted by Bhutan, Dorji by Alex Rothman, Folded into a paper boat a collection of Poetry from Bhutan, Mebartsho: The Falming Lake, Tales of the Yeti, Gyal-Khab, Reflections of State, Citizen, and Citizenship Education, The Hidden Rainbow.
About the Author 
Choden was born in Bumthang District. Her parents were feudal landlords. At the age of nine, her father sent her to school in India, where she learned English. She has a BA Honours in Psychology from Indraprastha College in Delhi and a BA in Sociology from the University of Nebraska-Lincoln. She has worked for the United Nations Development Program in Bhutan. She and her Swiss husband currently live in Thimphu.