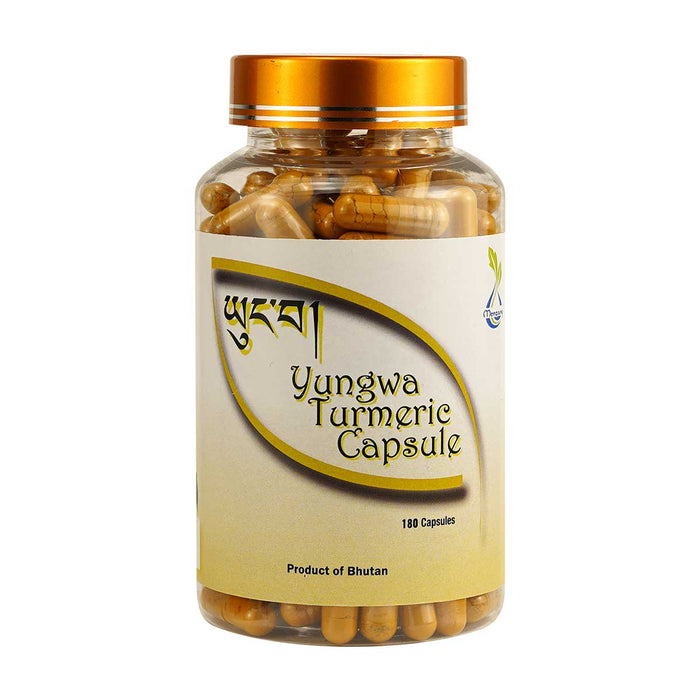 Yungwa Turmeric Capsule, Menjong Sorig
Original price
Nu 549.00
-
Original price
Nu 549.00
A natural and pure dietary supplement sourced locally from community groups in Bhutan. Each capsule contains a carefully formulated blend of Turmeric (Curcuma longa) and Pipiling (piper pedicellatium) to provide you with the benefits of this remarkable spice.
Turmeric, known for its vibrant golden color, has been used for centuries in traditional medicine and culinary practices. The active compound in turmeric, curcumin, is a powerful polyphenol with antioxidant and anti-inflammatory properties. Our capsules contain 495mg of Turmeric and 5mg of Pipiling, offering you the goodness of this potent herb.
With its antioxidant properties, turmeric may help neutralize free radicals and protect your cells from damage caused by environmental factors. The anti-inflammatory properties of curcumin make it a valuable addition to your daily routine, potentially supporting the management of inflammatory conditions such as arthritis, allergies, and colitis.
Our capsules are carefully manufactured with no additional ingredients or additives. We believe in providing you with a pure and natural product, as close to its source as possible. Each capsule is conveniently dosed at 500mg, making it easy to incorporate into your daily wellness routine.
While turmeric is a common spice used in cooking, the curcumin content is relatively low. To enhance the absorption of curcumin, our capsules include Pipiling, derived from piper pedicellatium. Piperine, found in Pipiling, has been shown to significantly increase the bioavailability of curcumin, ensuring that you can fully experience its potential benefits.
It's important to note that curcumin is fat-soluble, meaning it dissolves and is better absorbed in the presence of fat. Therefore, we recommend taking our capsules with a meal that contains some fat to optimize absorption.
Our Turmeric Capsules are designed to provide you with a convenient and effective way to incorporate the benefits of turmeric into your daily routine. However, it's always advisable to consult with your healthcare provider before starting any new dietary supplement regimen, especially if you are currently taking medication or have any underlying medical conditions.
We also offer the following products from Menjong Sorig:
Turmeric Capsules, Black Ginger Capsules, Dhuetsi Chuelen, Lakadong Turmeric Capsules, Mountain Pepper Oil, Native Turmeric Capsules, Natural Litsea Citrata Oil (Sil Timur), Organic Black Turmeric Capsule, Shilajit in Resin Form, Yungwa.
About the Producer
Menjong Sorig Pharmaceuticals,otherwise known as Pharmaceutical and Research Unit under the Institute of Traditional Medicine Services in the Ministry of Health, is the premier manufacturer of the traditional herbal-based medicines supplied to all the Hospitals in Bhutan. It is a place where the modern science and technology is married with the ancient traditional knowledge. It is located in Kawa Jangsa in the capital city of Bhutan, Thimphu.
Traditional Medicine was introduced as a part of the National Health Care System in 1967, when production of traditional medicines was started on a very low scale. In 1982, the production of traditional medicines was mechanized with the procurement of some basic grinding equipment with WHO support. By 1997, the cottage production unit was upgraded to a manufacturing unit as the Pharmaceutical and Research Unit (PRU) with modern equipment for production, research and quality control.
Thegso-ba rig-paprovides a comprehensive way of understanding the Universe, man, and his sicknesses and it is gaining popularity due to its holistic, rounded and profound approach in the treatment of human beings. The TM system with its unique philosophy and approach has a holistic approach in the treatment of human suffering and diseases. It not only considers in treating the disease and its causes but also considers the interdependency of man and nature and has spiritual components included in the treatment.