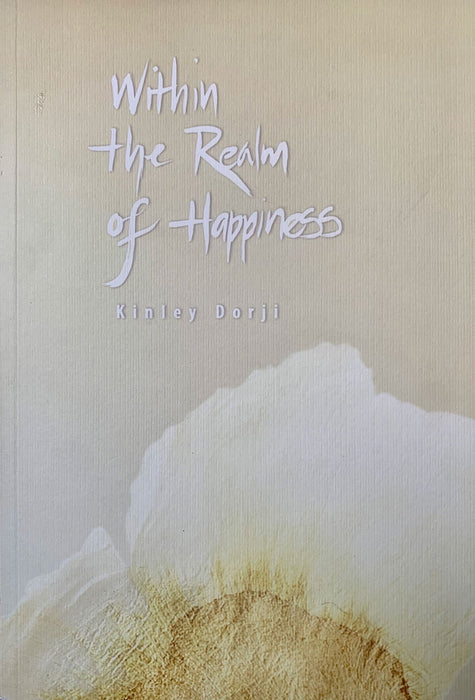 Within the realm of Happiness by Kinley Dorji
Sold out
Original price
Nu 0.00
-
Original price
Nu 0.00
This collection of 13 short stories, memoirs, and essays represents a mix of childhood memories, travel tales, and contemporary reflections on a rapidly changing populace. As Bhutan joins the modern world Kinley Dorji provides sensitive insights into the dilemmas that the people, and society, confront every day. 
He uses a number of creative non-fiction writing styles to undertake a small journey into Bhutanese society. The stories go far beyond the pages of this book.
"Living through stories"
We are formed by our environment..by what we absorb...by the stories we hear. There is no excitement like the thrill of being alive.
In Bhutan, we live close to nature and to spirits. We are immersed in ideas, values, norms, beliefs, and superstitions. We are able to reflect on our convictions, interest, and experiences.
We are extremely fortunate to be seeing incredible events unfold day by day. And, as active participants as well as an observer of our own experiences, we must share them. As they say, we in Bhutan, do not tell stories, we release them from within ourselves...
Technical Specifications
Language: English
Binding: Softcover
Pages: 209
ISBN Number: 99936-752-0-2
Published: 2008
We also offer the following books:

Kyetse by Chador, Miracle One Day, In Love with Butterflies and Other Stories, Deyzang by Indra K. Vishwa, Depa Bondeypa's Relatives, The Miracle Calling, Phases, Mipham's Dialectics and the Debates on Emptiness, AKu Thongmi: A song for Bhutan Written by Jane Hancock and Janet Herman, My Green School, Dewdrops in the sun; A Treasury of Poems, Rigzang, Ei8ht Nyingtib Tshering's Amazing Journey, What is the true cause of being born handsome or beautiful, Kissing Dragon, The Rendezvous Omega, Escapades Awakenings, How Turnips Came to Haa, The Dharma King, Bumo Jarim,The Dharma King by Dr. Lauren Alderfer, Akhey Gyem: A Legend from Haa, A Little Thing Called Love, Bhutan the Roar of the Thunder Dragon, Deities, Archers and Planners in the Era of Decentralisation, Sharchop Gyalpo and Ashi Nangsa, GNH Certification, Gyalo by Lingo Jamtsho, Medical History of Bhutan, The Sky Heard The Whisper, Tales in Colors & Other Stories, Enchanted by Bhutan, Thakchung Gadpu, Songs of Lonely Raven, The beautiful Chaos, Thus I Heard, Foods of the Kingdom of Bhutan, GARPA by Pema Tshering, The Gift, TIGER AND MONK: A HIMALAYAN FICTION, Enchanted by Bhutan, Dorji by Alex Rothman, Folded into a paper boat a collection of Poetry from Bhutan, Mebartsho: The Falming Lake, Tales of the Yeti, Gyal-Khab, Reflections of State, Citizen, and Citizenship Education, The Hidden Rainbow.
 About the Author
Dasho Kinley Dorji was Bhutan's first trained journalist who became founder, then Managing Director, and Editor in Chief of Kuensel, Bhutan's national newspaper. In 2009 he became Secretary of the Ministry of Information and Communications, a position he held until 2016.