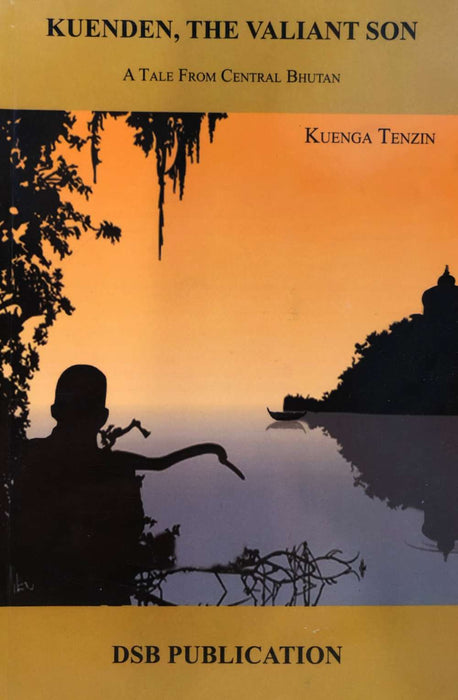 Kuenden the valiant son by Kuenga Tenzin
Original price
Nu 249.00
-
Original price
Nu 249.00
 Product Descriptions

Publisher: DSB Publication, 2012
ISBN Number: 978-99936-781-2-0
Pages: 96
Length x Width x Height: 11cm x 8cm x 11cm
Weight: 190grams 
We also offer the following books:

The Rainbow with a Blue Hear, Hidden Rainbow, Embrace, Brown Bear NoteBook,Within the realm of Happiness, The Gap, Just the Way It is, Ashi Tshomen: The Mermaid Princess, Tiger & cloud, Monk chasing Monkey, The Successors of Zhabdrung Ngawang Namgyel, Palang, Daphue Book, Daphue Sundry Book, BHUTAN - A Sketchbook, Foods of the Kingdom of Bhutan, School Leadership and Development, Metog Udumwara by Tshwang Peljor, Folktales of Bhutan, Living the Bhutanese Way, Discover the Eleven Profit Centres of Life, Switch Off- Karma Tenzin(Yongba), The Cuckoo and the Pigeon, Whispering WIngs, Our Life Waste not Regret not, The Hero with a Thousand Eyes, Leadership of the Wise Kings, Kyetse by Chador, Miracle One Day, In Love with Butterflies and Other Stories, Deyzang by Indra K. Vishwa, Depa Bondeypa's Relatives, The Miracle Calling, Phases, Mipham's Dialectics and the Debates on Emptiness, AKu Thongmi: A song for Bhutan Written by Jane Hancock and Janet Herman, My Green School, Dewdrops in the sun; A Treasury of Poems, Rigzang, The Dharma King, Bumo Jarim,The Dharma King by Dr. Lauren Alderfer, Akhey Gyem: A Legend from Haa, A Little Thing Called Love, Bhutan the Roar of the Thunder Dragon, Deities, Archers and Planners in the Era of Decentralisation, Dorji by Alex Rothman, Folded into a paper boat a collection of Poetry from Bhutan, Mebartsho: The Falming Lake, Tales of the Yeti, Gyal-Khab, Reflections of State, Citizen, and Citizenship Education, The Hidden Rainbow.
About the Author 
Kuenga Tenzin is from Gyelkhar, Bumthang. he is the author of the novel ENSARED and the short story. THE PROMISE OF THE SPRING. He is known for his flair for writing songs, movie scripts and stories. Though he rarely attempts poetry, yet he is known for his poem the ANTI-DEMOCRACY, which accentuates his skepticism and fear over the transition of Bhutan's Democracy in 2008.